>> Cooking Classes
Cooking Club

Send SMS
Contact Person
:
Shweta Angonda
Address
:
A / 21, Anuradha housing Society,hotgi Road,Solapur
City
:
Solapur, Maharastra, India
Mobile
:
8830180091
Email
:
shweta.angonda9000@gmail.com
Summary
:
You well be professional expert in Cakes, Choclates, Ice-cream,Doughnut,Pizza, Starters,Snacks,Sharbats etc;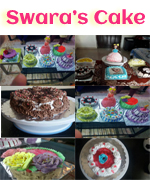 Swara's Cake

Send SMS
Contact Person
:
Sarika Jogdand
Address
:
Yashashri Appartment, Behind D-Mart, Jule Solapur
City
:
SolapurMaharastra, India
Mobile
:
9923335577
Summary
:
Swara's Cake Classes - Types of Basic Cakes :
1) Vanilla Sponge
2)Chocolate Sponge(In Cooker & OTG will be Taught.
Types of Advance Cakes :
1)Rasmalai Cake
2)Gel Cake
3)Doll Cake
4)PhotoCake
5)Chocolate Cake
What You Are Going To Learn?
1) How To Cut The Cake Without Knife
2) Soaking
3)Layering With Cream
4)How To Add Flavours
5)Roses...& Different Designs From Different Nozzles
6)Chocolate Garnishes
Flavours:- Mango, Orange, Kiwi, Strawberry, Pineapple Tips:
1)100% Eggless Class
2) All Material & Refreshment Inclusive
3) Partly Demo & Partly Hands On
4) After This Class You Can Start Taking Orders or Classes Too..100%
5) Limited Seats Only..
Prior registration compulsory..!!