Bank Insurance >> Financial Institutions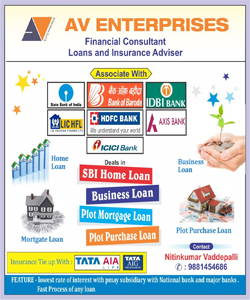 AV ENTERPRISES

Send SMS
Contact Person
:
Nitinkumar Vaddepalli
Address
:
34/3/62, New Paccha Peth,Solapur-413004
City
:
Solapur, Maharastra, India
Mobile
:
988145686
Landline
:
0217-2654686
Email
:
nitin_515@rediffmail.com
Summary
:
Financial Consultant, Loans and Insurance Adviser.
Assoicated with State Bank Of India, Bank Of Baroda, IDBI Bank, LIC, HDFC Bank, Axix Bank, ICICI Bank, etc;
Deals in SBI Home Loan, Business Loan, Plot Mortgage Loan, Plot Purchase Loan etc;
Insurance Tie up with : TATA AIA LIFE, TATA AIG Insurance
Feature : lowest rate of interest with pmay subsidiary with National bank & major banks, Fast Process of any loan.
Visiting Time : 10 A.M. to 9 P.M.
Bhagya Marketing

Send SMS
Contact Person
:
Bhagya
Address
:
61/B,Navi Peth,Opp.Adv.Dhananjay Mane Residence,Solapur
City
:
Maharastra, India
Mobile
:
9225832666
Landline
:
9325025666
Summary
:
Financial Consultant Of Personal Loan,Consumer,Home,Vehicle Loan
Birla Sun Life Mutual Fund

Send SMS
Contact Person
:
Mahantesh Patil
Address
:
Shop No-S-1A, E Ward, Akshar Plaza, CTS No.264/K, Tarabai Park, Kolhapur
City
:
KolhapurMaharastra, India
Mobile
:
9960540709
Landline
:
0231-6452003
Email
:
patil.mahantesh0@gmail.com
website
:
www.birlasunlife.com
Summary
:
Birla Sun Life Asset Management Company Limited
Financial Services

Send SMS
Contact Person
:
Mr.Laxman Nadimetla
Address
:
Plot No. 59B, Vyanktesh Nagar, M.I.D.C. Road, Near Mumtaj Nagar, Solapur
City
:
SolapurMaharastra, India
Mobile
:
9730076037
Email
:
lucky_p06@yahoo.com
Summary
:
Business Loan, Personal Loan, Mortgage Loan & Loan Against Property
HDFC Ltd

Send SMS
Contact Person
:
Yusuf Mujawar
Address
:
Vijapur road, Solapur
City
:
SolapurMaharastra, India
Mobile
:
0217-2316804
Email
:
yusufmujawar@ymail.com
Summary
:
for any home loan enquiry please contact
M/S. Krishang Chits

Send SMS
Contact Person
:
Vinayak Racharla
Address
:
43, A, Kuchan Nagar
City
:
SolapurMaharastra, India
Mobile
:
9422460307
Summary
:
Chit Fund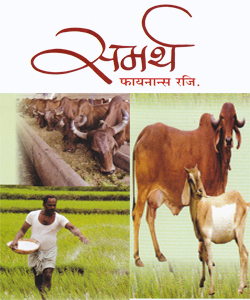 Samarth Finance Reg

Send SMS
Contact Person
:
Samarth
Address
:
97,South Kasaba,Near Unique Hospital,Laxmituka Complex,Solapur
City
:
Solapur, Maharastra, India
Mobile
:
8390210251
Email
:
pranitamajage2@gmail.com
Summary
:
1.Loan for Deshi Gopalan
2.Gorgay Palan / Sheli Palan
3.Mase Palan / Kukut Palan
4.Vit Bhatti / Oil Mill
5.Rice Mil
6.Poha mil
7.Small Scale Business
8. Sendriya Gula Nirmiti
9.Ayurvedic medicine manufacturing
10.Dairy Products / Milk Collection Center
11.Solar Power
12.All types of Oil(Massage Oil)
13.Sendriya Pashukadya Nirman Udoyg
14.Agricultural development, farmland,Pipeline,Thibak Sinchan etc;

Required Document ListFor Gopalan, Sheli / Mendhi Palan,Sendriya Sheti,Solar Power as below:
1)Passport Size Photo -2
2)Aadhar Card
3)Pan Card
4)Bank Pass Book Xerox (3 months Statment)
5)Light Bill Current Month
6)Sheti Jamin Jagecha Utara
8 A Sample
9.Project Report(C.A)
Atyanta Kami Ani Sopya KadpatranvarSulbha Karj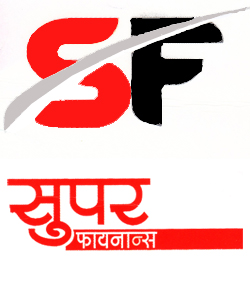 Super Finance

Send SMS
Contact Person
:
Damodar Bhandekar
Address
:
230/A, Paralekar Godavari Nagar,Gavali Vasti,Solapur
City
:
Solapur, Maharastra, India
Mobile
:
8149225947
Landline
:
8830156785
Summary
:
1)Family Loan
2)Loan available in 5 minutes
3)Loan with Minimum Documents
Ek Vel Avashya Bhet Dya (Must visit one time)